CounterPoint Customizations and Custom Reports

Email generation from customers / customer history:
This custom report allows you to create email lists separated with a semi-colon. This list can be saved to disc as text or excel spread sheet or opened as a text file ready to be copied into Outlooks or other email programs Bcc… field.

The report can be filtered by any field(s) in the customer file as well as ticket history line detail including what items or item categories/sub-categories the customer may have purchased.
You may also preview which customers will be selected prior to generating the email list.
Price $85.00
Sales Rep management:
This customization allows you to track sales reps and which vendors they rep for. This is for reps that represent multiple vendors you may order from. Keep contact information and notes along with all the vendors.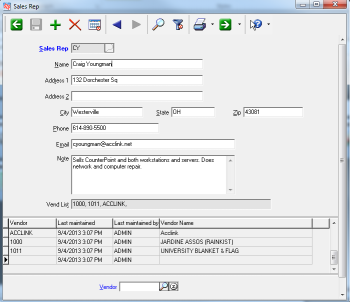 Price $95.00
Random daily physical count:
This customization allows you to count a random selection of items each day. You set the number of items and minimum price items to include. The idea is you count a small number of items each day/week/month rather than counting the whole store one day a year. The items are random for security. No one knows which items will be the next to be counted.
This customization does not interfere with the built in physical count system. They can be run in tandem.
Price $120.00